Profile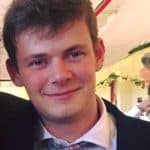 Sean Doherty
Thanks for such a fun event and your great questions :)
Curriculum Vitae
Education:

Marling School 2003-2010, Cardiff University 2011-2015, University College London 2015-now

Qualifications:

13 GCSEs, 3 A levels (Maths, Physics, PE), MEng in Medical Engineering

Work History:

The local pub, Delphi Diesel Systems as an engineer before university, Renishaw PLC as an engineer over summers at university

Current Job:

PhD Student at UCL

Employer:

I work on a project funded by the Inspire Foundation doing a PhD at University College London. I am based in a hospital in Stanmore in London that deals with specialist rehabilitation and surgery.
About Me

I'm a medical engineer currently working on a PhD with both a University and a hospital in London

Read more

I'm Sean, I love sports, music and fixing stuff. More recently I'm an aspiring geek studying for a PhD in London.

When I've escaped from our labs I have a campervan that I attempt navigate to interesting cities and sunny places!

I had an injury on my bike when I was 16 and use a wheelchair, since then I've been really enthusiastic about new engineering developments and how engineers work with medics and patients. I've also been playing wheelchair rugby for the Stoke Mandeville Maulers which is a cool sport you should check out!

My work

I work on developing a device to control people's bladders... to help people with nerve injuries

Read more

My work is about developing a 'neuromodulation device'- this is about zapping peoples nerves with electricity to help the nerves work after they have been injured. My project is to make a device to help people with injuries to their spinal cord control their bladders. This involves a big mixture of different things- reading, experimenting on people (volunteers both with injuries and not!), coding, designing circuits, making prototypes and a tiny bit of teaching…

Before this, I studied for a Masters degree in Medical Engineering at Cardiff University which took 4 years. In the summer holidays I worked at an engineering company called Renishaw PLC with their medical devices teams.

My Typical Day

I generally work planning and running research studies testing peoples physiology or designing and making gadgets for patients to use.

Read more

Every day is a little bit different, but typically I might spend a few minutes in the morning doing organisation things- replying to emails, sorting out visits to other peoples labs etc.

Then I either spend time with patients enrolled in our research- looking at how their nerves work (or not) to help inform my project, or working on designing, making and testing our devices we use for research with patients. I might spend some time analysing the data or doing some reading about previous research that has been done.

What I'd do with the money

I would build some interactive demo kits to teach how engineers can help those with disabilities.

Read more

I will use to money to buy equipment to build a kit our lab can use for school teaching to show the kind of work we do. This will include a 'design a wheelchair' and a 'measuring the nervous system' component. I will make the kit with work experience students who spend time in our lab

My Interview

How would you describe yourself in 3 words?

Quite often hungry

Who is your favourite singer or band?

Jimi Hendrix

What's your favourite food?

Spicy curry

What is the most fun thing you've done?

Wheelchair skiing

What did you want to be after you left school?

An inventor

Were you ever in trouble at school?

Quite a lot, but not the most

What was your favourite subject at school?

PE

What's the best thing you've done as an engineer?

Designed a 3D printed skull and a jelly brain with targets for practicing robotic neurosurgery

What or who inspired you to become an engineer?

My ability to break stuff as a child (and as an adult too)

If you weren't an engineer, what would you be?

Surfer or more realistically running a really great pub..

If you had 3 wishes for yourself what would they be? - be honest!

To be able to fly, to be able to change the weather, to have a go in a time travel machine to check out some cool bits of history

Tell us a joke.

What cheese do you use to tempt a bear out of a tree? Camembert

Work photos:

Here's a few pictures from our lab.  we do some work with exoskeletons,  but often just use them as a coat stand..

Sometimes we get to play around with virtual reality stuff when it's not being used in patient trials.

Here is a 3D printed skull  I made in a previous job,  it  was made for surgeons to practice robotic neurosurgery with.

Here is a picture of our lab last summer on moving day,  is not normally so empty!

Here are some 3D printers,  we have them in the room next door to our lab and use them a lot for making prototypes of our designs. Or sometimes just for fun,  this is my pen holder on my desk  that I 3D printed last week.. 

Thanks,  ask lots of questions!
---
---
---